Joy and excitement are good words to describe how I feel having been appointed as the next Dean of Chester Cathedral. This is tempered by the feelings of sadness and loss that accompany winding down and leaving after my time as Archdeacon of Leicester.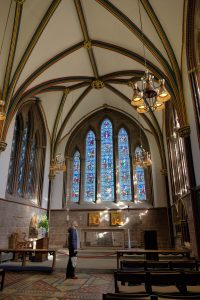 I am delighted to be joining the Cathedral and Diocese as Dean. When I was growing up in Liverpool, Chester was the historic city "over the water" where we would go for a treat and a day out. The opportunity to get to know the City and County of Cheshire from the inside and to make a difference will be a privilege.
The Cathedral is a beautiful and historic building in the centre of the city that draws people to visit. But it is more than that too. It is a place where people can encounter the presence of God and get a sense of the things that ultimately matter beyond the here and now. I hope that over the years I serve as Dean, the Cathedral will grow strong as a sign of our spiritual futures and heritage.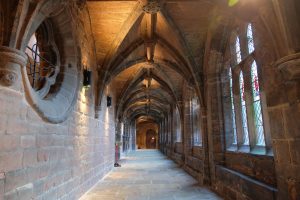 These last few years as Archdeacon have been challenging. My life has been located solidly in Leicestershire but work and ministry have been largely peripatetic. I have had an office and a home, which have both been creative, but I haven't had a church and I have missed that. Sometimes it has felt like I belong to 180 churches and that Sunday by Sunday everything changes. I am looking forward to a worshipping community to which I belong again.
Leicester Cathedral and the Bishop of Leicester's Leadership Team have been important places of fellowship over these years. But recently the Cathedral has done something radical. No longer do the canons have a seat to call their own. Portable furniture – the flexibility to re-pitch the tent as circumstances require – has been a bold decision for changing times. This has been energising, but at times dizzying. There is a cost to not having a place. I am reminded of Jesus saying, "Foxes have holes, and birds of the air have nests; but the Son of Man has nowhere to lay his head." For me now, I must try to avoid becoming so settled that God's creative Spirit has no space.
So in July it will be a sad goodbye to Leicester for Jen and I. We have felt loved here and have come to love so many great friends. We hope these friendships can continue to be as renewing and life-giving as they always have been.  In September, we begin a new life in Chester. We look forward very much to what God has in store.

Dates:
(Festival of Mary Magdalene)
3:00pm on Sunday 22nd July 2018
Goodbye Service at Leicester Cathedral
(Feast of the Birth of the Blessed Virgin Mary to whom Chester Cathedral is dedicated)
2:30pm on Saturday 8th September 2018
Installation and Welcome at Chester Cathedral